It feels like a lifetime ago since the UK government announced on Friday 20th March that all hospitality and entertainment venues, such as cafes, pubs and restaurants needed to be closed to the public.
Now we are all staying home as much as possible, it has been a huge relief to know that they can still provide take out and delivery for customers.
Lots of businesses in Surrey have decided to do just that and keep their businesses open, providing local residents with a much needed escape from the daily routine. Delicious pizzas, curries and even desserts are simply a click away. For one delightful moment you can transport yourself to life before lockdown with a meal cooked for you as well as indulging in a bottle of wine or beer.
Take a look through some of the Surrey businesses that are still providing food and drink for both new and existing customers.
D'Souzas Delights
If you are missing homemade baking, then D'Souzas Delights is what you need in your life right now.  D'Souzas Delights is a home based bakery providing a range of sweet treats for yourself or as a gift to loved ones. They deliver to your door, so you don't even need to leave the house!
Signature bakes include Kinder Chocolate cookie bars, Oreo Brownies, Salted Caramel Flapjacks and many more.
Pizzerium, Epsom
The Pizzerium in Epsom transports you to Italy with its overnight dough that forms the delicious base of their pizzas. The pizza menu may be limited to a small number of pizzas, but this only means that the pizzas that they provide are specialised with Italian bought toppings that will keep you coming back for more.
View online: www.pizzerium.co.uk
Jeitta Lebanese Restaurant, Woking
Jeitta may have closed its restaurant doors, but it is still delivering to local residents. Offering typical Lebanese dishes, there is a huge variety on their menu. The only problem you will face is deciding what to choose!
View online: www.jeitta.com
New Gurkha Kitchen, Reigate
The kingdom of Nepal lies in the Himalayas and is home to the world famous Gurkha soldiers, known for their bravery and courage. Their curries are imbued with Nepalese spices and their take-away menu is mouth-wateringly attractive with a wide variety of both meat and vegetarian dishes.
View online: www.newgurkhakitchen.com
Creams: Epsom, Guildford and Camberley
The franchise of Creams is well-known for their deliciously indulgent desserts. From crepes to waffles as well as milkshakes and more, this is certainly a tempting place for a special occasion or even just a mid-week treat!
View online: www.creamscafe.com
Botley Hill Farmhouse
Botley Hill Farmhouse are working on offering a brand new delivery and daily takeaway service. Check out their website for more information on take-away Sunday roast dinners and more.
View online: botleyhill-farmhouse.co.uk/dining/delivery-and-takeaway/
Dorking Brewery
Need a few drinks or a little tipple? Then don't forget to buy online from the Dorking Brewery – bottle and boxed beers are available.
View online: dorkingbrewery.com/brewery-shop/
Fruit On Route
Fresh fruit, veg, and eggs delivered straight from the market to your doorstep. All delivered locally by Fruit On Route run by Nick Hill. Small local business run for over 35 years covering Wimbledon Village, Wimbledon, Raynes Park, Epsom, Ewell, Cheam, Sutton, Putney, Oxshott, Ashtead, Leatherhead, Teddington, Merton Park, Hampton, Esher and many other local areas.
With no delivery fee, no minimum order, and you can pick what items you would like.
View online: www.fruitonroute.co.uk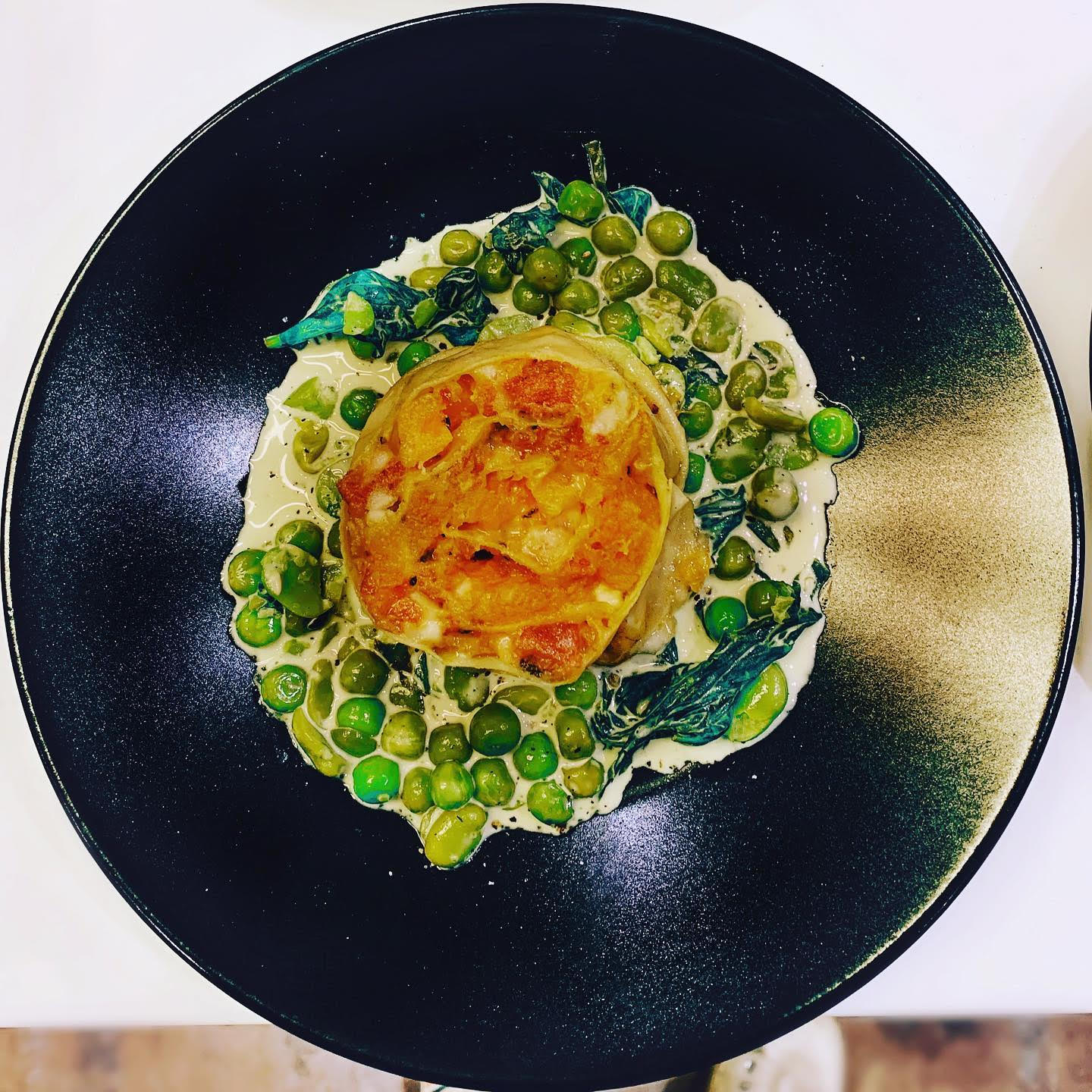 Enter By Basement
A local business born out of the first lockdown and this pandemic, they aren't currently able to offer their usual Supper Clubs or cater mixed household dinner parties BUT, they can still serve their delicious food to your homes.
Menus are published on Mondays, order taken by midday Wednesday and deliveries (or contactless collection) are on Fridays. Menus change every week.
Enter By Basement deliver free within 10 miles of Guildford but you can collect from them – they're right in the town centre.
View online: www.enterbybasement.com
The Retreat Kitchen
Maggie and Claire of The Retreat Kitchen in Richmond create earth friendly food with their delicious homemade vegan dishes. They are  offering their ususal smoothies and juices menu and a takeaway lunch menu for easy pick up. A great spot for vegan take away in Richmond.
View online: www.theretreatkitchen.co.uk
Crazy Bean Cafe
From burgers and pizzas  to wraps, wings and pasta, the team really know how to make vegan food for everyone. This Surrey vegan food spot in Leatherhead is offering raditional flavours with vegan ingredients available for takeaway (pick up only).
View online: www.cafe.crazy-bean.com
Mezzet Lebanese Restaurant
With an extensive drool worthy menu, you should be ordering your Hampton Court takeaway from Mezzet  – peruse the website to see for yourself! Mezzet have some of the best vegan food in East Molesey which is amazing. The team are offering take away food with free delivery (within a 3 mile radius only)or for collection from their East Molesey restaurant. https://www.mezzet.co.uk/index.php/take-away-food-mezzet-lebanese-restaurant-east-molesey-near-hampton-court-village/
View online: www.mezzet.co.uk
The Brook
The Brook offer plant based Ready Meals delivered nationwide. You can build a box of all your favourites or try something new – it's like going out to a vegan restaurant from the comfort of your own home. Vegan food in Wallington that's delivered to your doorstep.
View online: www.the-brook.co.uk
Thai Lotusland
Gourmet Thai cuisine that is authentic and delicious. Enjoy True Thai hospitality and culture without ever leaving the UK. Open for takeaway and delivery, get free food delivery in Farnham for orders over £30.
View online: www.thailotusland.co.uk
Is your business still open?
If your cafe, pub, and restaurant is still open and you're offering take out and delivery options then email us at [email protected] with your details and we will add you to the list.
Also if you have another business, such as a shop or indie supermarket that is remaining open or adapting to life during the Coronavirus pandemic then let us know and we can feature your business too. Just email us at [email protected] with your details.