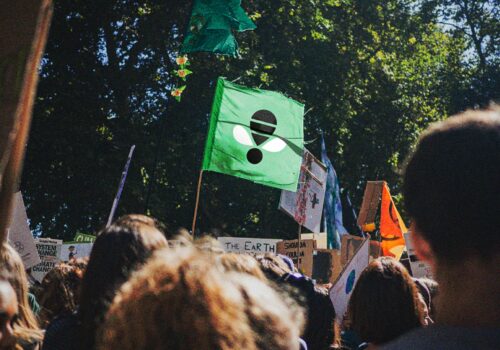 Grassroots Campaign Manager
Salary: £30,000 FTE
Term: Fixed-term contract (1 year)
Commitment: 4 to 5 days per week
Flexibility: Flexible and largely remote (including the option to job-share)
Overview:
Zero Hour is searching for a Grassroots Campaign Manager to maximise the impact of the grassroots arm of the campaign for the Climate & Ecology Bill, which is currently before the UK Parliament.
This is a critical role at the heart of the CE Bill campaign at a vitally-important moment in Zero Hour's history. If you want to be part of the movement that brings about the legislation we need to tackle the climate and ecological emergency, this role is for you.
Experience working for an environmental NGO or charity isn't essential. What we're looking for is someone who can inspire people, organise effectively, with a flair for creative campaigning on the biggest issue facing us today.
Key purpose:
We're looking for someone to help Zero Hour galvanise mass public support for the CE Bill—because that's how we'll bring about a serious, science-led, legally-binding plan to tackle the climate-nature crisis, head on.
With a Westminster election looming, we need to inspire UK-wide uptake of our campaign actions by the public—inspiring a critical mass of campaigners to proactively evangelise about the CE Bill, with more people leaning on their local MPs—because that's how we'll win this campaign. More people, more pressure, more MPs (calling for and) working to bring about the systemic changes we need.
A big criticism of the UK environmental movement is that it only inspires a small section of society to take action. We want to bring everyone with us, and demonstrate how an inclusive and diverse movement can make real change happen.
Key responsibilities:
You'll be responsible for developing (with the campaign Co-Directors) and delivering Zero Hour's grassroots strategy.
This means you'll lead on how Zero Hour recruits, excites, and activates a wide, diverse group of people across the UK nations under the CE Bill banner at this crucial moment for the future of UK environmental policymaking.
Reporting to the Co-Directors, you'll work closely with Zero Hour's Digital Campaign Manager, Engagement Coordinator, and Political Communications Manager, alongside other members of the central Zero Hour team.
You'll also work closely with Zero Hour campaigners and campaigning organisations, plus leading environmental policymakers, influencers, scientists and partners; including purpose-driven organisations such as The Co-operative Bank, Zoological Society of London, Ecosia, National Education Union, Greenpeace, Natura & Co., Triodos Bank, Lush, Friends of the Earth, and hundreds more.
Areas of responsibility:
Overseeing the development and delivery of Zero Hour's grassroots strategy (to achieve campaign targets), including the use and refinement of tactics to win over MPs to the CE Bill campaign through constituency pressure and promoting the case for the CE Bill at local and regional levels.
Networking within target constituencies, including mobilising campaigners and key members of local communities—such as councillors, other local politicians, networked environmental organisations, and businesses—to build a groundswell of support.
Working with the Political Communications Manager, developing communications regionally to connect the experiences of people on the ground to demonstrate and promote (in the local media) how the CE Bill would positively impact people's lives and livelihoods.
Acting as the principal point of contact for members of the public who have signed up to the CE Bill campaign—including supporting campaigners' efforts—such as setting up local meetings, facilitating campaigners' sessions online and in person, and communicating through email, WhatsApp, Telegram, Facebook and other platforms.
Empowering campaigners across the UK nations, making sure they have easy access to up-to-date materials, information and intelligence required to lobby MPs, councillors, and other politicians effectively; including facilitating Zero Hour's grassroots events, drafting grassroots communications, and liaising with regional (volunteer) coordinators.
Making sure that grassroots activity is incorporated into Zero Hour's wider work, including creating key campaign moments to better engage the public through exciting and creative activities; including by connecting (and building stronger partnerships) with environmental NGOs and other Zero Hour partners.
Working closely with Zero Hour's (1) Engagement Coordinator to ensure that the campaign connects meaningfully with groups who are often locked out of environmental campaigns; (2) Digital Campaign Manager and Political Communications Manager to excite and help grow our database of 35,000 (signed-up) campaigners; and (3) Co-Directors to develop and deliver bespoke strategies for key constituencies and regions.
Your experience:
We're looking for someone who's passionate about environmental action, with a flair for mobilising, who can hit the ground running in this crucial year for UK environmental policy-making.
You'll have managerial experience and you are good at managing volunteers and competing projects or priorities.
You'll have experience setting up and keeping track of large databases of information, in order to send and monitor mail merges and mass communications.
Ideally, you'll know your way around a customer relationship management system. Zero Hour uses NationBuilder (which is unique to political movements) although experience on this platform isn't essential.
Ideally, you'll also have a practical understanding of the UK's local, regional, and national political systems and processes, although an in-depth knowledge of the UK Parliament isn't essential.
Ideally, you'll have experience of working in a grassroots campaigning or a community organising organisation, with experience of developing and implementing a grassroots mobilisation strategy at a regional or national level, but we welcome applications from people who haven't previously worked in an environmental role.
Personal specification:
Ideally, you'll have experience working on campaigns in the environmental, sustainability or human rights sectors, as well as the following.
The ability to develop, execute, monitor, and evaluate grassroots strategies, including an interest in understanding how to adapt and improve campaign tactics.
Confident and professional written and verbal communications skills, with an ability to engage and activate a range of people.
A keen eye for detail and an ability to manage projects and prioritise tasks.
Excellent problem-solving skills and ability to find creative solutions.
The ability to lead projects independently, and manage volunteers, interns, and placement students etc.
An interest in the key issues surrounding the climate-nature crisis (globally and at a UK level).
Knowledge about the interconnections between social and racial justice and the environmental emergency.
An understanding or interest in UK politics as well as demonstrable, good political judgement.
Competency of IT systems, such as Google and Microsoft applications, and particularly Excel, as well as, ideally, knowledge of how to build, inspire and activate a campaign database.
Further details:
This work will be largely remote, with occasional travel to London for Zero Hour meetings, and occasionally some travel to meet existing/prospective campaigners or partners across the country.
Application process:
To apply, please submit a two page CV and a two page covering letter by email to 

[email protected]

 by 23:59 on 27 August 2023.
If you'd rather record a (2 to 3 minute) video or an audio recording in place of a covering letter, that's also fine.
Interviews will take place in the week commencing 28 August 2023. An immediate start in early September is possible.
In your covering letter, please (1) referring to the experience and personal specification, explain your suitability for the role of Grassroots Campaign Manager, using examples from your previous work and voluntary roles, and (2) propose how you think Zero Hour should grow and activate a successful grassroots strategy between summer 2023 and autumn 2024 (i.e. the likely period of the next Westminster election) as part of maximising the impact the CE Bill campaign.
About Zero Hour:
Zero Hour is the grassroots-led campaign calling for the Climate & Ecology Bill; a groundbreaking, science-led legislative proposal that's bold enough to tackle the climate-nature crisis. The CE Bill would put us on the right path to restore nature, decarbonise fairly, and include citizens in deciding a fair way forward.
Zero Hour is a mass-mobilisation campaign that's rapidly building a grassroots movement of citizens, local groups, NGOs, businesses, councils and scientists; alongside almost 200 cross-party MPs and Peers.
By working for Zero Hour, you'll be helping bring the CE Bill ever closer to passing into law, helping to secure a liveable future for generations to come.
You can find out more at zerohour.uk or via our Twitter account, @cebill_now.
Additional notes:
Zero Hour is committed to providing equal opportunities for everyone, regardless of their background.
We acknowledge that people from certain backgrounds are under-represented in environmental campaigns—and we are committed to doing what we can to correct this.
We are particularly keen to receive applications from people of colour, people with disabilities or other health conditions, people who identify as LGBTQIA+ and people who identify as working class (or have done so in the past).
How to apply?
Apply Online
All information, media, and links for the Grassroots Campaign Manager job vacancy have been supplied and/or are owned by the organisation (Zero Hour) itself including all copyright, media rights, and trademark usage. The Grassroots Campaign Manager job vacancy has been published in good faith on Go Surrey Jobs by the Go Surrey team who have not independently verified any of the information provided.