Albury Vineyard Silent Pool, Shere Road, Albury, Surrey, GU5 9BW
01483 229159
Transparency
Business Member
Limited Company
Albury Vineyard Limited
Profile Created June 2022
Profile Updated June 2022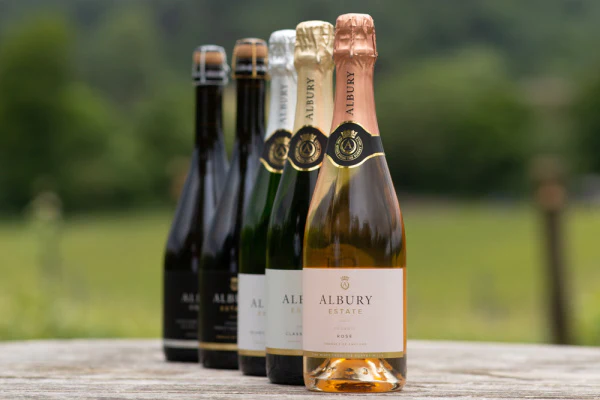 Albury Vineyard
Albury is a small, family-run biodynamic vineyard located in the beautiful Surrey Hills. We produce the highest quality organic English wines.
Albury Vineyard is the result of Nick Wenman's passion for quality wine. Nick planted the vineyard in 2009 having retired from the IT industry to fulfil his dream of owning a vineyard. Nick believes that key to the success of the wines is the vineyard's commitment to organic and biodynamic principles, together with excellent winemakers and his talented vineyard manager Alex, one of the few female vineyard managers in England. Her expertise is vital to the running of the vineyard, and her dog Attila is well loved by visitors. Albury is a family-run vineyard, with Nick's daughter Lucy now part of the team and granddaughter Poppy a regular visitor (if only to visit the bee-hives and sneak a taste of the honey!)
Albury Vineyard is situated on the southern slopes of the North Downs in the beautiful Surrey Hills, just outside Guildford on the A25 towards Dorking. The vines are the traditional Champagne varietals of Chardonnay, Pinot Noir and Pinot Meunier, as well as some Seyval and Pinot Gris. We are committed to producing organic fruit without the use of chemicals such as herbicides and fungicides, and produce English wine of the highest quality; a still rosé and quality sparkling wines.
All information, media, and links for the Albury Vineyard directory profile have been supplied and/or are owned by the organisation itself including all copyright, media rights, and trademark usage. The Albury Vineyard directory profile has been published in good faith on the Go Surrey Directory by the Go Surrey team who have not independently verified any of the information provided.